Zion Williamson is the biggest NBA draftee since Lebron James. The 2019 NBA Draft focused mainly on Williamson, the 6'7" power forward from Duke. NBA teams prayed and dreamed of winning the lottery to secure the box-office superstar, and the Pelicans won arguably the second biggest NBA Lottery ever. Williamson, the obvious #1 overall selection, now enters the NBA with lofty expectations set forth by the media and fans alike. He is a dynamic star-in-the-making because of his vertical leap, footwork and athleticism. Williamson does lack a few skills, mainly a consistent perimeter shot, but he already possesses many other attributes to vault him in front of his peers. Despite singing his praises just a few sentences ago, I believe that Zion will be a bust, and it's all our fault as to why this will come to be true.
When players are labeled "busts," what does this mean? Sports fans categorize a player as a bust when the athlete does not live up to expectations. For example, the Portland Trailblazers selected Sam Bowie, a center from Kentucky, #2 overall in the 1984 NBA Draft. Bowie heard his name called before athletes like Michael Jordan, Charles Barkley and John Stockton. Jordan, Barkley and Stockton – all of who were selected after Bowie – are members of the NBA Hall of Fame, while Bowie enjoyed nowhere near that level of success. Other examples of busts include Greg Oden, Darko Miličić and Michael Olowokandi. These players greatly underachieved and set back multiple franchises; however, I don't think Williamson will be this type of bust. I think he's doomed to fall short because of the media and fans across the NBA.
LeBron James, for the vast majority of fans, is either the greatest or second-best player ever. Imagine Williamson hearing the comparisons of himself to potentially the greatest player ever. Aren't those shoes incredibly tough to fill? I'm sure Williamson enjoys some of those compliments, but after a while, I'm sure that pressure grows substantially. Williamson is a 19-year-old kid- yes, I said kid. Is it really proper to compare someone who can't even drink at a bar to a man with over 32,000 career points? I understand people don't actually believe Williamson is on James' level yet; instead, fans believe the two share similar hype and talent at the same rookie point. Regardless, Williamson isn't LeBron. LeBron was the prodigy. He was supposed to save Cleveland from their losing ways and rejuvenate his home crowd. He walked into an abysmal Cavaliers locker room, and, frankly, led the team to any success almost by himself. Williamson is a completely different player, and he awaits a very different situation in New Orleans.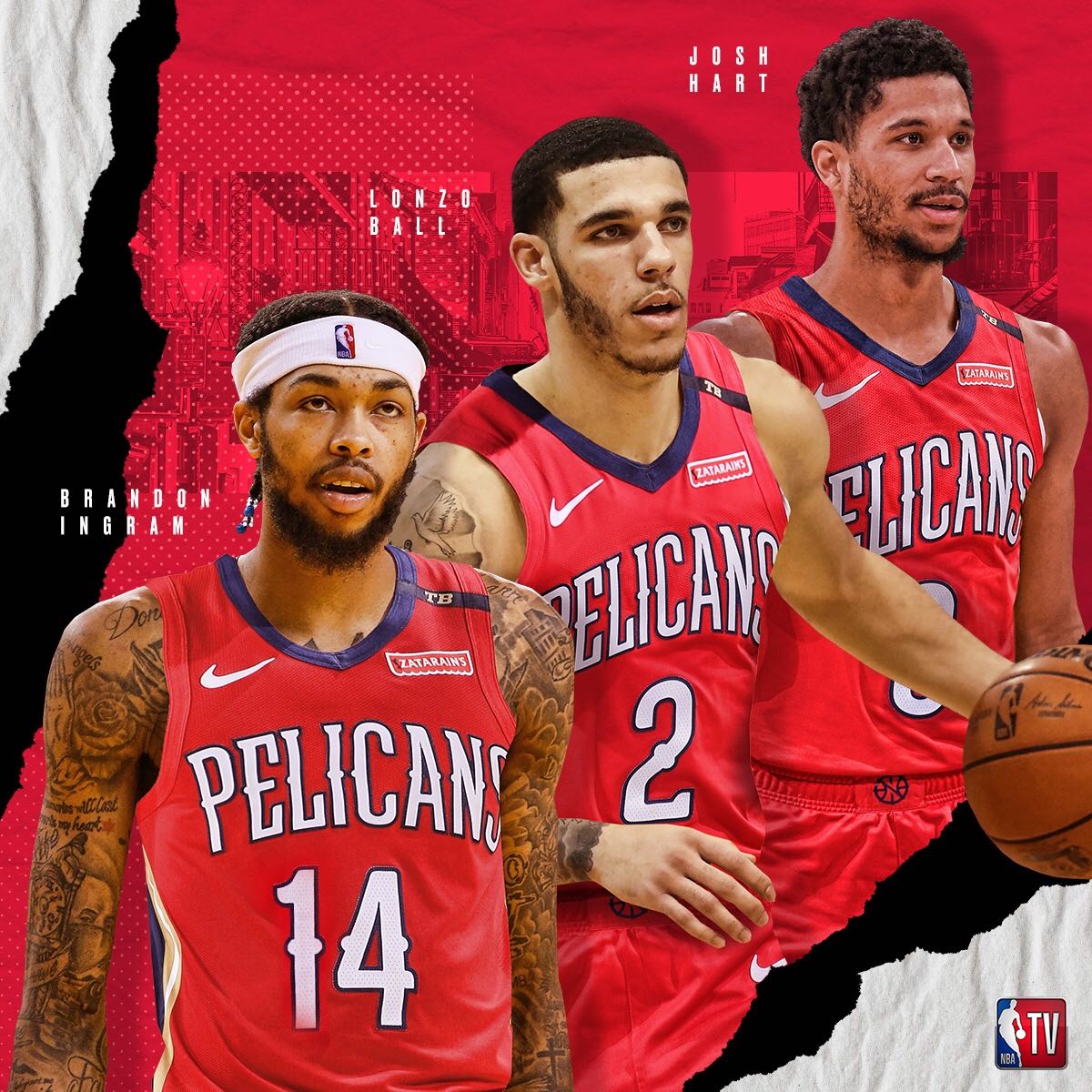 Williamson is joining a young, talented New Orleans Pelicans team. The Pelicans have weapons around Williamson like Lonzo Ball, Brandon Ingram, Jaxson Hayes, Jrue Holiday and J.J Redick. LeBron James would have loved to have that talent his first year. If you subtract Williamson from the Pelicans for this season and you subtract James from the Cavaliers his rookie season, the Pelicans may have enjoyed twice as many wins as the Cavaliers. The Pelicans at least have some base to work with. Williamson doesn't have to be the savior like James had to be. The media loves to describe Williamson as a "never-before-seen commodity," yet all they do is compare him to a multitude of players. Without even playing in one NBA season game, Williamson "needs" to fill the void of star power Anthony Davis left behind, and he needs to shine as bright as Lebron James. Again, he isn't and won't be Lebron James nor Anthony Davis.
Williamson compares to absolutely no one. He's a different type of player than anyone currently in the NBA. While he may have some similarities as other stars, Williamson is Williamson, not the other stars. He dominated the collegiate game with his footwork, post-game and athleticism. He terrorized his opponents on both ends of the floor, and he propelled Duke to the Elite Eight. His high-flying dunks and vertical leap wowed us all, and to top it all off, Williamson is incredibly humble. Usually, when players know how good they are, they tend to get a little cocky or develop and ego. Williamson has remained humble and modest throughout his development, probably best shown through his raw emotions on draft night. We expect everything and then some from Williamson, and this is so detrimental to his career.
I feel that if Zion Williamson is unable to bring an NBA Championship to the New Orleans Pelicans, then he will be considered by some a bust. If we set the bar for Williamson somewhere around the "Lebron James" level, then he most definitely will be a bust. To achieve what Lebron James has takes an incredible amount of both skill and luck. It takes tremendous talent and hard work, but it also takes the right amount of stars to align. Derrick Rose had plenty of potential, but his career fell short of expectations due to injury. Multiple things had to work just right for James to be where he is now; just one injury or small mistake could have rerailed it all. One real-world example of these comparisons would be a newly-graduated college student looking for a job.
Let's examine the example of a college graduate. This particular graduate majored in business and now dreams of being a CEO someday. Being a CEO is the end goal. While it may be possible under extremely rare circumstances to achieve this immediately, the odds are very slim. If either the graduate or other outside forces – let's use his family in this example – try to force him to find a CEO role by end of his first or second year working, the graduate will become frustrated quickly. Why? Simply, it isn't very likely the graduate will find that much success that quickly. Instead, it will take years of hard work to reach that pinnacle of success. In fact, the graduate may never even become a CEO but still enjoy much success pursuing their passion. Even if the graduate becomes a CEO, he or she may only be a great CEO, but never the best CEO ever. I think this example can further explain how we need to view Zion Williamson.
Zion Williamson, like any athlete, wants to be the best (the top CEO ever). It is very unlikely – I'll be blunt and say impossible – right away. He is lucky and already has a high-up position in the Pelicans, being their best player, but he's still not a CEO (the best player ever in the Pelicans' organization). To be the best player ever, Williamson would need to be the best player, CEO in my previous example, in the New Orleans Pelicans' history and then surpass all the other CEOs for every other team. LeBron James is the CEO of the Cavaliers. To compare a CEO, especially such a prominent one, to a mid-level employee fresh out of college is an absurd idea. James has had time to work to the level he is at, while Williamson hasn't had that luxury. It would be wiser to compare Williamson to those slightly above and below his age range to track his progress. What happens if Williamson never becomes a CEO? Does this mean he failed? To some, maybe, but I don't subscribe to that idea.
Williamson is a spectacle to behold. Whether he scores 25 PPG or 15 PPG his rookie year, Williamson will attract a large crowd. The Pelicans will love his play on the floor, but they will enjoy the revenue he pulls in just as much. He is a hot commodity. The Pelicans will look to squeeze every dollar out of him in marketing as they can. I believe if Williamson never leads a team to a Larry O' Brien Championship Trophy, he can still be a success. Sure, he wouldn't be the greatest ever, but he'd go down in history as a legend and role model for future athletes. To avoid being a bust, Williamson needs to have a solid career. I'd say if he averages 17 PPG, 6 REB and 4 REB a game that it would be enough to silence the critics. People expect too much too soon and maybe too much entirely. As long as he doesn't underperform to the level of guys like Oden mentioned before, I think he is a success.
Some see Williamson as needing to perform at the same level as LeBron James or Michael Jordan to fully live up to expectations. I don't think he needs to come anywhere close to that level to achieve greatness. If Williamson achieves glory and success to a level of Chris Paul or Russell Westbrook – great players with long careers but no championships – I still believe he was worth the #1 selection. Even if he doesn't net the New Orleans Pelicans a championship, Williamson will bring plenty of attention and sales that the Pelicans have been lacking. He will transform the culture of New Orleans basketball that will impact the dramatically going forward. As fans, we need to stop overhyping Williamson and let him play. He will be a fantastic talent in the NBA, but be may never crack the top-50 players of all-time. That's fine, too. In the end, Williamson will perform at his best, and high expectations will do nothing but add undue pressure and stress. He will be a bust if we continue to throw his name in with James'. Instead, let's ease off and allow him to be great.