PHILADELPHIA, Pa. – The Philadelphia Eagles hosted an open practice yesterday, and it was a tremendous success. Fans of the 2017 Super Bowl Champions were able to watch their team practice live, all while raising money for the Eagles Autism Challenge. The Eagles raised $475,000 yesterday, and fans were more than excited to catch a glimpse at the revamped roster. The open practice had many positive takeaways, so I decided to focus primarily on offense, as that is an area that saw many changes this offseason. Here are my nine biggest offensive takeaways from the Eagles' open practice:
1. QB1 RETURNS:
Since injury during the 2017-2018 season, Carson Wentz has endured heavy waves of criticism and negative comments from doubters. He dropped from #3 to #96 in the NFL Top-100 Rankings, and many polls and rankings are categorizing him unbelievably low. Wentz excited me during the open practice. I felt he looked quick and mobile on his feet, and he seemed confident and determined. While he did miss some throws, Wentz reminded fans of what he is capable of, especially on a deep-ball pass to DeSean Jackson. I'm glad to see Wentz excelling, and I still believe he will make a run at NFL MVP this season. For someone who has endured many negatives since entering the league, Wentz seems to have done a great job blocking out the nonsense and focusing on personal improvement and leadership. I'm looking to see how big of a step he can take forward as an indicator of offensive success this season.
2. sUDFIELD SLINGS:
Whenever I praise Wentz's play or skillset in debates, the immediate follow-up I hear in return is about his health. Nick Foles played a crucial role during the last two seasons as the backup QB, and the backup position could be important if Wentz sustains another major injury. For a backup QB, Sudfield showed signs of great potential and improvement. One touchdown that stood out to me was a well-thrown ball to the wide receiver over his shoulder in the back-right corner of the endzone. The pass was both accurate and extremely well placed. If called upon, Sudfield would be thrust into a major role quickly and with a lot on the line. It was reassuring to see improvement from a potentially vital player. He's not going to be challenging Wentz's job in any fashion, but he still must continue to improve just in case his number is called.
3. Shifty Sanders:
Eliot Shorr- Parks, an Eagles reporter for 94WIP, tweeted: "No player has changed my mind more than Miles Sanders has during training camp. Thought he was good before camp. After seeing him for a week, he looks on a completely different level than all of the other running backs." The Eagles made it a major priority this offseason to solidify the running game. The Eagles drafted Miles Sanders in the second round with the 53rd overall pick, and the Eagles selected Sanders to be a young, vibrant RB to pair with another young stud in Wentz. Sanders is growing in popularity with fans and for good reason. He made multiple agile, strong cuts during practice, and he was able to stand out because of his quickness and lateral movement. Sanders drew comparisons to LeSean McCoy, who previously played for the Eagles and was noted for his movement and agility. While I don't believe Sanders is at that level yet, I can see some similarities, and it's fantastic to have a glut of running backs to select from. A Sanders-and-Wentz offensive combination is a terrifying nightmare for opposing defenses.
4. Gas left in the tank: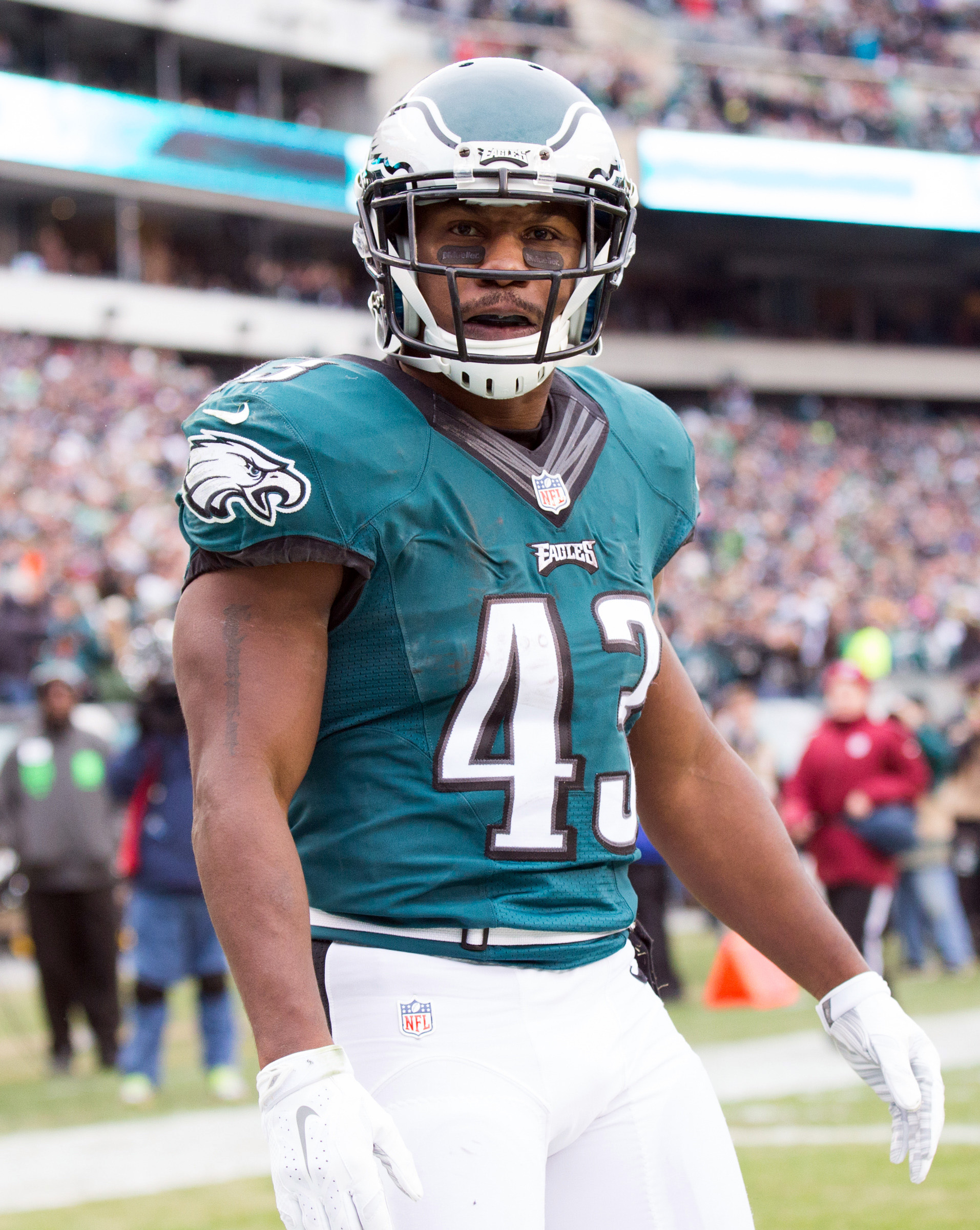 Most players don't last 13 years in the NFL, but Darren Sproles looks like he could last another 13 years. Sproles, a late addition to the Eagles roster after re-signing just a short time ago, reminded fans of his speed and quickness. Sproles had a few carries for big yards, and his role in the offense could pay big dividends. I envision Jordan Howard and Miles Sanders carrying the bulk of carries, but Sproles can be an elusive weapon to utilize in certain situations. Sproles is another asset the Eagles can utilize to terrorize opposing defenses.
5. Deep-threat desean: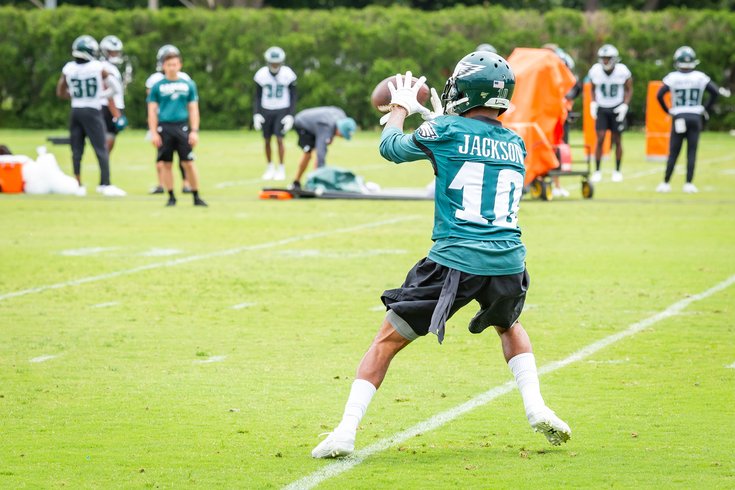 It's hard to believe that DeSean Jackson ever left the Eagles because he has fit in so seamlessly so far. Jackson came out onto the field to a roaring ovation, and every catch by Jackson yielded screams and whistles from the crowd. He adds another weapon to Wentz's WR arsenal and will warrant a bulk of the attention of the defense. Possibly the loudest play of the evening came on a deep throw to Jackson, which he caught, followed by Jackson tossing the ball into the crowd. Jackson is a mega-talent and a huge fan favorite. The practice showed me that the Eagles want to get him involved early and often. Jackson has come along way as an athlete and leader, and I look forward to watching #10 run deep down the sidelines.
6. Creating camaraderie:
One of the biggest positive signs from the practice took place off the field. Close to the 10-yard line, a group consisting of Wentz, Howard, Jackson, Ertz and Agholor was laughing and discussing the on-the-field plays and sets. The group seemed to communicate effectively, and it seemed like there was great chemistry amongst the group. It's a fantastic sign to see new pieces like Howard and Jackson fit in so well with established Eagles stars like Wentz, Ertz and Agholor. Trust, understanding and camaraderie are key for any team or unit, and it seems like the offense is coming together well. This family-oriented team unity can only breed positives for the Eagles.
7. Two talented te's:
I expect this to be a big year for the Eagles' tight ends. Zach Ertz is coming off a tremendous 2018-2019 season, and Dallas Goedert showed potential in his limited action during his rookie season. Both athletes looked sharp during practice. Ertz caught a well-thrown pass in the back-left corner of the endzone, hurdled the chain and tossed the ball to a young fan. Goedert looked improved in his route running and in his ability to get open. It's going to be difficult to exceed last season's marks for Ertz, but I believe he will be just as dominant, and Goedert will enjoy tremendous success as well. Both TEs are fantastic weapons to utilize in the passing game, and both should see many passes thrown their way.
8. Something in the air:
I took plenty of pictures and videos during practice, but the one thing an iPhone gallery can't capture is the atmosphere, and it was electric and contagious. Fans know just how special this team is and the potential it has. Excited fans, both young and old, lined up early to get the best seats possible, some arriving three hours before the practice started. I was surrounded in line by hundreds of fans chanting E-A-G-L-E-S, even in the scorching sun. Those in attendance could feel the excitement and enthusiasm about the practice, and even player introductions aroused emphatic screams, cheers and whistles. The Eagles are a hot commodity, and Eagles fans can't wait for this season to begin. It didn't feel like an ordinary practice; it felt like a glimpse or sneak peek at the beginnings of something special.
9. We don't deal with outsiders very well:
"We don't deal with outsiders very well" is a line from a 21 Pilots song titled "Heathens," and it fits Eagles fans perfectly. There was a Cowboys fan lined up in the gate a couple of rows over from me, and he was ridiculed and jeered at loudly until he eventually left. Inside the stadium, a fan filmed himself being chastised and yelled at, but this time, it was because he wore an Eli Manning jersey. I saw later in the evening two fans leaving wearing New England Patriots jerseys. Eagles fans were quick to find those not draped in Eagles green and made it known whose house they were in. Despite the bad rap Eagles fans get, they showed just how enthusiastic and loyal they are to the team. The Eagles are undoubtedly one of the most dedicated fan bases, and they showed their pride and spirit passionately during the practice.